Welcome to Destination Gamer
Destination Gamer is a very friendly 18+ gaming community for everyone on all gaming platforms. Create a DG account today to be able to take part in forum discussions, our gaming sessions, joining or creating a social group, sharing your best moments from your Youtube channel, posting latest gaming news, creating your own gaming blog and much more!
Already a member with us? Login here.
Destination Gamer - A gaming community where there literally is 'A Game For Everyone'!
DG Spotify Playlist
Newest Members
Today, 12:38 PM
Posted by ChainsawMcGraw in
Multi
(2 Views · 0 Comments)
Telltale Games has confirmed that it is indeed working on its own adaptation of Game of Thrones as
rumoured recently
.
Based upon the hit HBO TV series, the game promises to follow Telltale's much-loved adventure-style gameplay and storytelling.
Set to feature "large battles", it'll obviously differ from Telltale's other titles in that respect, and you can probably expect boobage, blood and violence to boot.
Telltale Games will be whisking all of us away to Westeros when it launches its own take on Game of Thrones in 2014.
06 Dec 2013
Posted by gamergirl27 in
Multi
(6 Views · 1 Comments)
Needs to get here and soon! Love this game!
From
Telltale Blog
With this week's launch of The Wolf Among Us on iOS, everyone here at the office has been incredibly excited by the response to our series from fans new and old alike. We know many of you are anxious to see where Bigby's story goes next, and the dev team is hard at work finalizing our live development process on the upcoming episode, Smoke & Mirrors. At Telltale, we always aim to deliver quality content across the season at a pace that will keep you glued to your screen and talking about 'your story' as the season progresses. With the second chapter now close to completion, we wanted to share two new screens from the episode to give you a sneak peek at what will be happening next in Fabletown...
First up is a brand-new reveal of a character that FABLES fans will definitely recognize – the one and only 'Jack' of beanstalk fame. A sharp-tongued rogue who's been a staple character in the FABLES series since issue one, Jack has even been honored with his very own spinoff comic series, Jack of FABLES.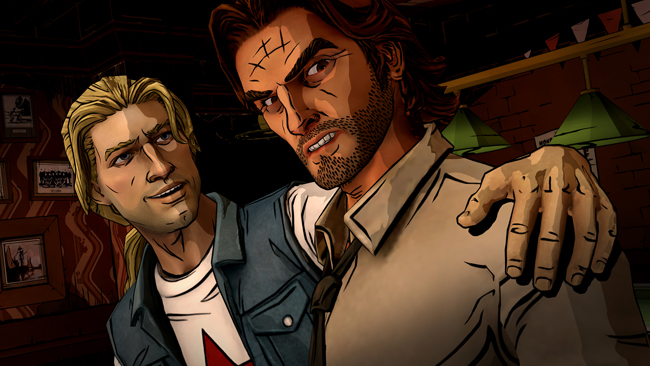 We also have a peek at the seedy underground club exclusively for Fables, known as the 'Pudding & Pie.' Doesn't look like the gentleman in the chair is particularly happy to see Bigby and his 'friend,' but it's probably safe to say that Bigby isn't very happy either...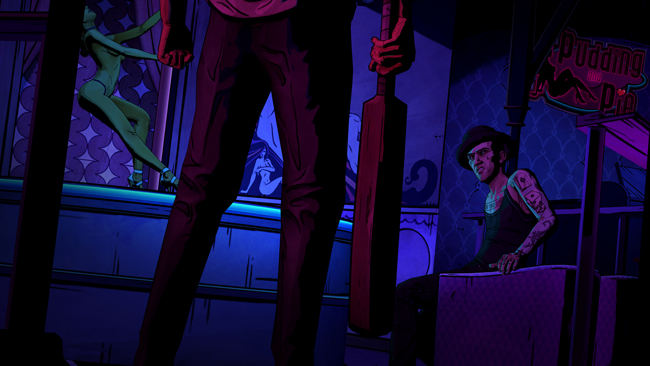 We wanted to thank everyone for playing the first chapter in The Wolf Among Us, and ask for your patience as the team works very hard this month to finalize what is shaping up to be another episode full of surprises. We're anticipating another update on its ETA for release very soon after the holidays, and we couldn't be more excited to continue this series with all of you.
Stay tuned for more updates as they happen, and if you're also a fan of The Walking Dead, definitely check back for news on the Season Two premiere, set to arrive later THIS MONTH on Xbox 360, PlayStation 3, PC, Mac, and iOS!
Want to know a little more about Fabletown and its inhabitants? The Wolf Among Us dev team talks about the world of Fables in this all-new behind the scenes video.
06 Dec 2013
Posted by ChainsawMcGraw in
Multi
(4 Views · 1 Comments)
he first episode of The Walking Dead: Season Two may be coming to consoles on December 17th.
Yet to be officially announced by developer Telltale, the date was spotted on the game's
Steam listing
. And although you would expect it to launch on consoles at the same time, for now we'll have to treat the news as rumour. We'll update once we get confirmation.
Season Two puts players in the shoes of Clementine, with a story that picks up "many months" after the events of the first season of the game. Telltale says second season will challenge you with "situations and dilemmas that will test your morals and your instinct for survival."
The first episode is called "All That Remains."
06 Dec 2013
Posted by ChainsawMcGraw in
DG News
(6 Views · 5 Comments)
Forget Christmas dinner – gamers who plan on spending the entire festive period on their new consoles can enjoy a Christmas Tinner.
The meal boasts nine layers – from a fry-up for breakfast through to turkey and veg and even mince pies for dessert – all in a tin, courtesy of retailer Game.
'Almost half of British gamers plan to spend the majority of Christmas Day testing out new games and consoles,' explained a spokesman for the company.
'It's the ultimate innovation for gamers across the nation who can't tear themselves away from their new consoles and games on Christmas Day – the first all-in-one festive feast in a tin .'
The Christmas Tinner layer list in full:
Layer one – Scrambled egg and bacon
Layer two – Two mince pies
Layer three – Turkey and potatoes
Layer four – Gravy
Layer five – Bread sauce
Layer six – Cranberry sauce
Layer seven – Brussel sprouts with stuffing – or broccoli with stuffing
Layer eight – Roast carrots and parsnips
Layer nine – Christmas pudding
05 Dec 2013
Posted by ChainsawMcGraw in
DG News
(6 Views · 4 Comments)
A young father who paid £450 for what he thought was an Xbox One on eBay was sent a photo of the new console instead.
Peter Clatworthy, 19, had saved up all year to buy the Microsoft console – which is now sold out – for his four-year-old son.
But days after paying for the Day One edition of the games system he received a grainy photo of one in the post, which, to add insult to injury, the seller had written 'thank you for your purchase' on the back of.
When he went back to the listing, Mr Clatworthy realised it had advertised 'Xbox One Fifa Day One Edition, Photo Brand New UK 2013′, despite featuring an image of the console and being listed under the 'video games and consoles category'.
The teenager, from Bilborough, Nottinghamshire, said he was 'absolutely gutted' despite being given a full refund from eBay, which said it would take action against the seller as misleading listings are not allowed.
'I told my brother and he was crying with laughter, so were all of my mates, it is quite embarrassing,' he said.
'Even my mum said I was a bit stupid considering it said it was a photo on the listing.'
Mr Clatworthy added: 'It has potentially ruined Christmas.'
Tweets by @DestGamer
The Play Vault Podcast
5,784

Total Posts

86

Total Members
IAmProjectAlice Newest Member

55

Most Online
5 users are online (in the past 15 minutes)
3 members, 2 guests, 0 anonymous users (See full list)
Batch, Bing, miggyriggz, Google, Markanix